--
---
CHERNOBYL - TCHERNOBYL ACCIDENT
INSIDE - SIMULATION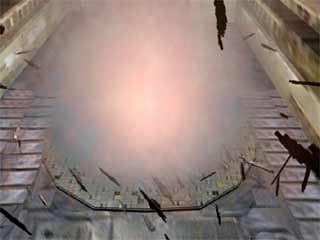 CLICK HERE TO SEE THE CHERNOBYL REACTOR EXPLOSION WITH QUICKTIME

CLICK HERE TO SEE THE CHERNOBYL REACTOR EXPLOSION WITH WINDOWS MEDIA PLAYER 9
---
CHERNOBYL - TCHERNOBYL ACCIDENT
OUTSIDE - SIMULATION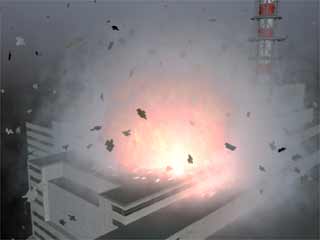 CLICK HERE TO SEE THE CHERNOBYL ACCIDENT WITH QUICKTIME

CLICK HERE TO SEE THE CHERNOBYL ACCIDENT WITH WINDOWS MEDIA PLAYER 9
contact :

© michel leconte.stockani 2006
---
From Wikipedia, the free encyclopedia
The Chernobyl accident occurred on April 26, 1986 at the Chernobyl nuclear power plant in Pripyat, Ukraine (then part of the Soviet Union). It is regarded as the worst accident in the history of nuclear power. Because there was no containment building, a plume of radioactive fallout drifted over parts of the western Soviet Union, Eastern Europe, Scandinavia, UK, and the eastern United States. Large areas of Ukraine, Belarus, and Russia were badly contaminated, resulting in the evacuation and resettlement of roughly 200,000 people. About 60% of the radioactive fallout landed in Belarus.
http://en.wikipedia.org/wiki/Chernobyl_accident
chernobil disaster, picture, accident, nuclear, heart, power plant, video, incident, ukraine, effects, exlosion, radiation, 1986